Gold Award Girl Scouts
Issues of the world, meet your match. 
The Girl Scout Gold Award is the highest award a Girl Scout can earn. Once achieved, it shows colleges, employers, and your community that you're out there changing the world.
Join a century of women who have done big things. Learn more about Gold Award scholarships, the history of the Gold Award, and the benefits of going Gold. All proposed projects must be approved by one of our 5 Regional Gold Award Committees. Final Gold Award Reports submitted by February 1 each year for approval  are recognized by Council that membership year.
WANTED:   GOLD AWARD COMMITTEE MEMBERS

Leaders or recent Gold Award recipients: interested in mentoring and guiding an older girl as she pursues the highest award a Girl Scout can earn? If you're interested, send an email to: awards@gssgc.org  and we'll provide a position description and application. We have Gold Award committees in each of our 5 regions who meet monthly (as long as there is a candidate presenting). If you have additional questions about the committee, you can email awards@gssgc.org.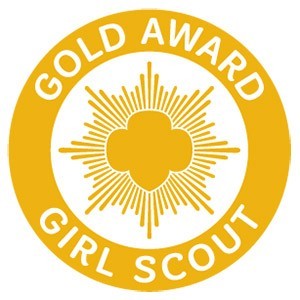 You can pursue your Girl Scout Gold Award if:
 

You're in high school (ninth through twelfth grade, or equivalent) 
 

You're registered as a Girl Scout Senior or Girl Scout Ambassador
 

You have completed two Senior or Ambassador Journeys OR earned the Girl Scout Silver Award and completed a Journey
 

You have completed the online Gold Award Training and attended a Gold Patrol Workshop hosted by your Regional Gold Award Committee.
Leaders and parents are encouraged to attend as well.
Click here to register for the Gold Award Training which is only available online. This training is available after October 1st of your 9th grade year. 
Click here to register to attend the Gold Patrol Workshop in your region. You are eligible to attend the Gold Patrol Workshop upon successful completion of the Gold Award Training and after April 1st of your 9th grade year.
Girl Scout Gold Award Steps
Investigate your issue thoroughly
 

Get help and build your team
 


Present your plan and gather feedback 
 


As you look to identify the "root cause" of your issue, click here and a 2019 National Gold Award Girl Scout will guide you through an activity to develop your mind mapping tool. 
Ambassador Girl Scouts in 12th grade must have their proposals approved no later than June 1 of their graduating year.