Cookie Boss at Universal - Waiting to be rescheduled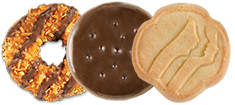 Date:
Sat May 02, 9:00 AM
- Sat May 02, 11:45 PM
Location:
Universal Studios Hollywood
Map
Category:
Program Activities, Special Events
Cookie Boss is a is a Reward Event earned by Girls who sell 875+ boxes through the GSSGC 2020 Cookie Program
Get ready for some big time thrills, great shows, lot's of memorable character interactions, great food and the movie magic that is Universal Studios!
Event Date: May 2nd, 2020
This reward is for the Girl Scout and her (GS Registered Adult) Chaperone, which includes park tickets for the day at Universal Studios Hollywood, a Meal Voucher, BBQ Lunch, Awards Ceremony and After Hours Buy-Out of the Upper Lot including Hogsmead (9pm-12am), and awesome SWAG.
Check-in and SWAG pick-up will take place at all 5 regional offices prior to the event date. Each Girl Scout/ Chaperone will receive an invitation and the option to choose which location they would like to pick-up their SWAG from.